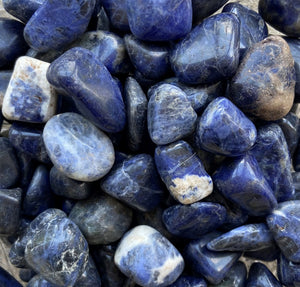 Sodalite stimulates the "third eye".  It awakens intuition and psychic connection, integrating the higher levels of consciousness with the physical plane.  It is known to be beneficial for the throat chakra, instilling confidence, self-esteem, and strengthening your ability to communicate effectively. 
Sodalite is also a great stone for meditation.  It assists in deepening mediations so that you are able to grasp the "whys" of your circumstances, instilling a drive for truth. Sodalite also serves as an excellent aura cleanser, boosting your energy and stabilizing your chakras for healthy balance.  
Sodalite treats the throat, vocal cords & larynx.

Crystals vary in Sizes, Shapes, Colors, and Measurements.

Measures approximately 1".