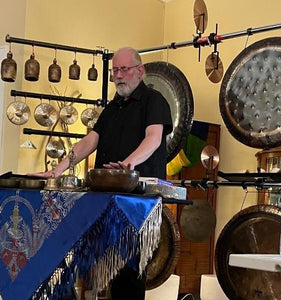 GONG BATH AND MEDITATION with Michael Bettine
CELEBRATE OUR GRAND OPENING
Sunday, September 24, 2023
3:00p - 4:30p
The Gong Meditation is so much more than just gongs. It's gongs, singing bowls, bells, and other percussion instruments, combined into a pulsating soundscape that is designed to help you slow down and invite stillness within. There's no hurry, no destination—only the breath and being in the moment. 

Michael has a way of playing that delves into the soul of his instruments, allowing them to help transform stress, fatigue, and the challenges of everyday life into a journey of deep relaxation and peace.

Michael Bettine is a respected and well-known Master percussionist, improviser, and composer who presents concerts under the name GONGTOPIA. He has released over 40 albums of solo percussion music and various duo/trio performances. He has authored many articles for magazines and books.  He is the author of three percussion instructional books. 

Seats are limited to 15 attendees and will be reserved on a first come, first served basis.  There are no refunds for Sound Baths.  Cancellations may be made up to 48 hours prior to a Sound Bath with your payment being deferred to a later date of attendance.

The Gong Bath Meditation is held at

Angel Light LLC
2331 S. 108th St, West Allis