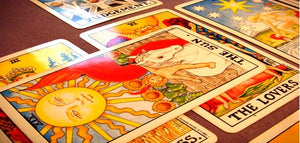 DATES:  Monthly on Tuesdays
TIME: 6:30p - 8:30p

NEW: BACK TO TAROT - STUDY GROUP DATES
Tuesday, October 10, 2023

Tuesday, November 14, 2023
Tuesday, December 12, 2023
INSTRUCTOR: Tarot Teacher Extraordinaire, Connie Kick
LOCATION:  Angel Light LLC, 2331 S. 108th St., West Allis
Oct 10 - Taking Back your Power- How to Build confidence – We are in control of ourselves and our own Power.  This month we'll work with a spread that will help us to understand why we don't stand in our power, what is holding us back, and how to step back into our power.  This Tarot Study group will help us to walk away more confident than ever.

Nov. 14 – What if I'm Wrong?  In Tarot there often isn't a correct answer.  We are going to look at why a "correct" answer can be different based on the energies of the reader, the querent, and the cards.  This is a fun and interactive class.  Be prepared to role play.    
Dec. 12 – Connecting to a Past Life.  We are going to learn to use the tarot to help us see a past life, when this past life was important, if there is anything to learn from a past life, and how to use lessons from a past life in your current incarnation. 
Connie's monthly study groups are open to all levels of Tarot, beginner to advanced.  Each class will include a learning portion and an experiential portion.  Every student who attends will also be getting a reading, either one that they do for themsxelves or from one of their classmates under Connie's guidance and tutelage.  Every month's leaning experience will have a different theme and students will learn to use spreads related to that theme.  Some classes will include learning games and other classes may focus on a particular suit or tarot element.
Each monthly study group will have a tarot discussion, activity, handouts, sharing, and reflection.  These workshops will be energetic, non-judgmental, non-structured, and include a sharing of collective knowledge.  The workshops are meant to empower in a fun, loving, and caring way.  Sometimes they may be silly, sometimes serious, but they will always be FUN.  All that is required is a Tarot Deck of your choice and a notebook.
Registration: $45 per class or $39 when you register at least two weeks before the actual day of the class you will be attending.  All study groups will be from 6:30-8:30 pm.  To reserve your seat in this Tarot Study Group, call Angel Light at 262-787-3001, register in person at 2331 S. 108th St. in West Allis or on-line at www.angellightshopping.com.