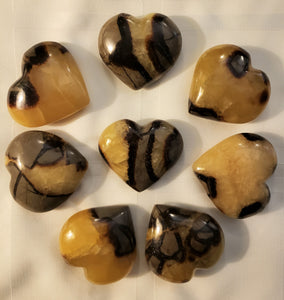 Septarian stones are the oldest stones formed in the earth.  They were formed during the Cretaceous period, 50 to 70 million years ago when the Gulf of Mexico reached what is now Southern Utah. They are composed of Calcite (The Yellow Centers), Aragonite (The Brown Lines) and the Outer Grey Rock is Limestone.  They form very unique patterns that look much like ancient symbols or writing. The name Septarian is derived from the Latin name, Septem, meaning seven. 
When Septarians are cut in half, one side will represent male energy, and the other side, female energy.  Their task is to create balance.  In the case of a Septarian cut in the form of a heart, the representation is the loving connection of two individual energies into one complete whole.
Septarian stones have strong grounding properties and are valued for their ability to enhance spiritual growth and stimulate healing of the body, mind, and spirit. They also have a very protective and calming energy and when you hold them, they can comfort and nurture you. They are highly valued when doing journey work for their potent and protective qualities.

*Measures approximately 2" x 2"
Crystals may vary in Size, Shape, Colors, and Measurements.