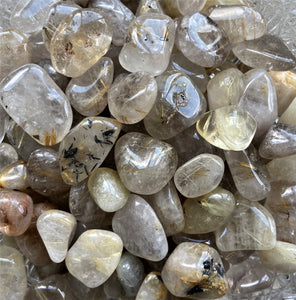 Rutilated quartz is a variety of quartz which contains needle-like strands within the quartz.  These strands are actually minerals that can present themselves in many different colors.  The colors include black, gold, silver and gold, but they can also appear in shades of copper, red, or reddish-brown. 
Rutile's are  formed as needle-like crystals. These needles can form singly or in groups that appear in tight bundles or as star-like configurations.  They can be sparse or dense enough to make the quartz nearly opaque. The interesting thing about rutile's is that they add value to the quartz they lay within.  The value of rutilated crystal is based on each crystals quality and appearance. 
Rutilated Quartz works very well for getting to the root source of problems on many levels of existence, including the physical, emotional, mental, or spiritual.  They lead us down the path of least resistance in recognizing how our issues manifested in the first place. 
In order for Rutilated Quartz to assist in the best way possible, the bearer of the quartz should imagine themselves within the crystal while programming it with their intentions. 
As a Quartz, rutilated quartz retains all the properties of clear quartz. 
Crystals vary in Sizes, Shapes, Colors, and Measurements.
Measures approximately 1-1/8".