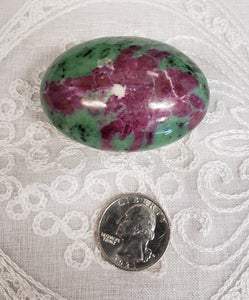 Ruby Zoisite is a combination stone of Ruby and Zoisite.  It is also known as Anyolite. Ruby Zoisite combines the energy of Love and the energy of Joy. It is one of the most magnificent combinations of color and energy and it conveys the energy of physical, emotional, and spiritual love. 

Ruby is also considered a stone of "magic" that surrounds its user with a protective shield, deflecting any approaching negativity.  As an "Energy Stone", it is purported to awaken the Kundalini energy that rests at the base of the spine, unleashing an energetic rush of euphoria from the base chakra to the crown. 

Zoisite is known to transmute negative energy into positive energy. It is a stone of joy, transformation, and new beginnings.  It assists in bringing our hidden emotions to the surface where they can be dealt with and moved beyond. Zoisite is a connector to higher levels of spirit, allowing us to see truth and find a path of higher consciousness when dealing with life's challenges. *

Crystals may vary in Sizes, Shapes, Colors, and Measurements.