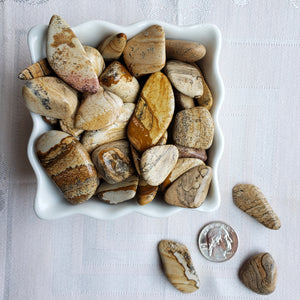 It is said that Picture Jasper contains images and messages drawn from the past and also serves as a powerful window and connection to the energy of the Earth.  Therefore, it can be considered a Shaman stone, assisting those who journey with it to be able to connect to times, places, and events in the past.  Picture Jasper is also considered a stone of vision and prophesy, and a connector to dream interpretation. It is reputed to help enhance one's intuition.
*Measurements are approximate.
Crystals may vary in Sizes, Shapes, Colors, and Measurements.