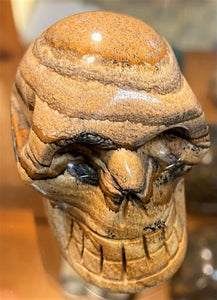 Skulls are carved shapes filled with mystical intrigue.  Skulls have been around throughout time and appear in the form of carvings, jewelry, and tattoos.  Skulls have been known to represent courage, bravery, strength, and wisdom.  Some people believe that skulls have an ancient or alien origin. 
This Picture Jasper Skull is newly arrived.  A skull carved in Picture Jasper is a bit harder to find, so it makes for a wonderful collector's item.  Picture Jasper is touted for the many images you can see within the stone and, therefore, becomes a storyteller for anyone who chooses to work with it. 
It is said that Picture jasper contains images and messages drawn from the past and also serves as a powerful window and connection to the energy of the Earth.  Therefore, it can be considered a Shaman stone, assisting those who journey with it to be able to connect to times, places, and events in the past.  Picture Jasper is also considered a stone of vision and prophesy, a connector to dream interpretation, and the ability to enhance one's intuition.  *
Measures approximately 2-1/4" x 1-9/16" x 1-1/2".
Crystals may vary in Sizes, Shapes, Colors, and Measurements.