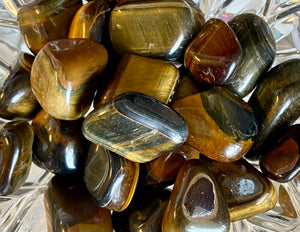 Multi Tiger's Eye is a combination of many forms of Tiger's Eye including blue, red, and golden Tiger's Eye.  It is commonly known as "Hawk's Eye" and its multiple layers are said to promote a sharper and awakened vision, allowing its user to see deep into the many layers of their own being, even into the deepest forgotten secrets and the most challenging aspects of one's soul. 
Tiger's Eye is a very protective stone, reminiscent of the third eye of the Cyclops.  It is ever watching out for you, continually looking in every direction, and assisting with your insight and foresight. 
Tiger's Eye is also helpful with emotional balance.  It is purported to  enhance your connection to your personal power and strengthen your resolve. On a metaphysical level, Tiger's Eye has been used to promote the strengthening and healing of broken bones and for treating the eyes, the throat, and the reproductive system.

Crystals vary in Sizes, Shapes, Colors, and Measurements.