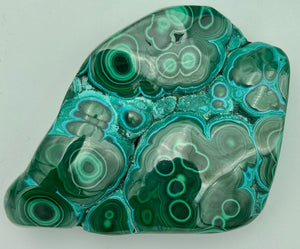 Malachite has the most beautiful green color and contains some of the most unique patterns in the crystal kingdom. Intention combined with using Malachite opens the gateway for manifestation.  Malachite is said to bring abundance and balance to the user. Malachite also has a unique ability to absorb negative energy until it is energetically cleared.  It is very useful as a shield against the negative electro-magnetic energy of computers, cell phones, and other digital devices.  
Malachite is a good stone to use when you want to awaken your third eye intuitive potential.  It will help you heighten your inner vision and find the "higher truths" often hidden in the maze of human existence.  Therefore, Malachite becomes a "stone of transformation" as it assists in awakening to a higher consciousness, expedited by its ability to provide deep energy cleaning and healing to the wearer.  
Malachite also draws emotions to the surface, allowing for those emotions to be be cleared of any negative energy, including old emotional patterns, past traumas, and suppressed feelings. If you hold a piece of Malachite on the Heart chakra, it may help bring balance and fidelity to relationships with other people.
It is said that Malachite may be helpful with Inflammation and Joint problems. It is also known to help ease menstrual cramps and the pain of childbirth. 
*Measures approximately 4-1/4" x 3-1/8" x 1".
Crystal Sizes, Shapes, Colors, and Measurements may vary.