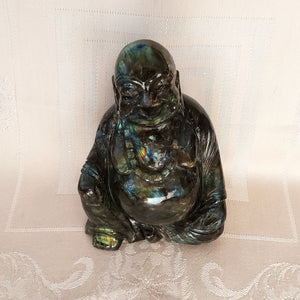 Buddha, the symbol of peace, harmony, unconditional love, and happiness.
A statue of Buddha represents not only his teachings, but the attainment of inner peace for the mind, heart and soul. A Buddha statue can represent the desire to obtain a full understanding of our lives in the deepest way possible. This Happy Buddha represents good luck and good fortune. 
The Labradorite Buddha shown here shimmers with flashy splashes of peacock blue, gold, pale green, and coppery red.  Labradorite, also known as the "extraterrestrial" stone, is reputed to enhance a connection to "other worlds". It has been reported to activate one's psychic ability, increase intuition, and open the gateway for a spiritual awakening. Labradorite works to balance the chakras, working best with the Solar Plexus chakra, enhancing willpower and creating a sense of inner value and worth. As a "bringer of light", Labradorite is also a highly protective stone. It deflects unwanted energies and protects the auric field from energy leakage.
*Measures approximately 4-5/8" x 2-3/4" x 3-1/4".
Crystals vary in Sizes, Shapes, Colors, and Measurements.