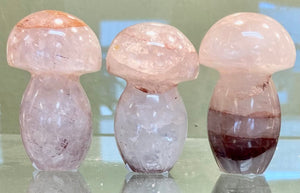 Hematoid Quartz is quartz with hematite. As a natural combination, the Hematoid Quartz, combines the high energy of Quartz with the stabilizing energy of Hematite. It also adds its own synergy to the mix.  Hematoid Quartz will range in color from a very pale yellow to a red, almost rusty, color.  The yellow and brown versions are known as Golden Healers and the red versions are known as Fire Quartz.  The energy of Hematoid Quartz, whether yellow or red, is very potent and transformational.  It has a strong, protective, and stabilizing quality and a strong connection to Mother Earth.  It is also known as a very effective chakra balancer. *
*Measures approximately 2-1/2" x 1-1/2"

Crystals may vary by Sizes, Shapes, Colors, and Measurements.