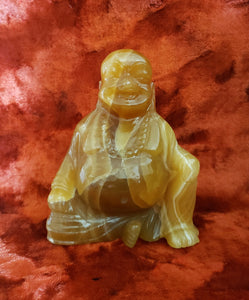 Buddha, the symbol of peace, harmony, unconditional love, and happiness.
A statue of Buddha represents not only his teachings, but the attainment of inner peace for the mind, heart and soul. A Buddha statue can represent the desire to obtain a full understanding of our lives in the deepest way possible. This Happy Buddha represents good luck and good fortune. 

The Buddha shown here has been carved from Golden Calcite.  Golden Calcite is a yellow/gold color calcite that is a transparent form of Calcite and often contains beautiful rainbows of internal light.  It is also known as  honey or yellow calcite.  Golden Calcite is related to the Solar Plexus Chakra and is helpful in working to enhance your sense of confidence, self-worth, and personal power.  Its yellow color brings in the energy of the sun, often helping with energizing the physical body and lifting negative moods and depression.  It is also helpful with SAD (seasonal affective disorder) in areas of the world that have long winters with little sunshine.  
*Measures approximately 4-⅜" x 3-⅝" x 2-¼".
Crystals may vary in Sizes, Shapes, Colors, and Measurements.