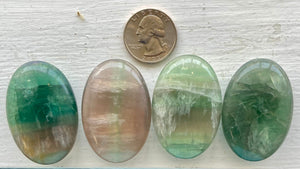 Fluorite's name comes from the Latin word fluor, meaning "flow," but today it is used to describe the crystal's fluorescence capability to glow under ultraviolet light. Due to its greater abundance, you will more than likely purchase "rainbow fluorite." Rainbow Fluorite contains more than one color.  Green, purple, blue, and clear combinations can exist all in one stone. 
Fluorite is also used to enhance mental functions by balancing the chemistry in the brain, and is referred to as the "genius stone" because it allows the user to concentrate and learn complex subjects.  It is a great stone for students when studying subjects or taking a test.
Fluorite is one of the most powerful healing stones.  It is great for the digestive system and also assists with healing of the eyes, ears, and sinuses. Fluorite is known to strengthen bones and teeth, and lessen the pain associated with arthritis.  It is also helps to deflect the negative electro-magnetic energy of computers.
Crystals may vary in Sizes, Shapes, Colors, and Measurements.