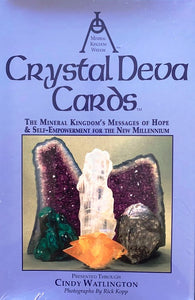 Description as taken from back of product box:
The Crystal Deva Cards contain new information channeled from the Crystal Devas, Guardians of the Mineral Kingdom, to help humankind heal the emotional and spiritual life lessons of today's world. The 44-card deck features color photos of exquisite crystals. For healing, the Devas have energized each card with its stone's vibration.
This is a fabulous deck for those who embrace the energy of crystals and the gifts of Mother Earth.
Author:  Cindy Watlington