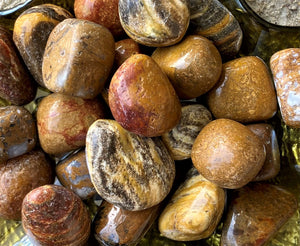 Willow Creek Jasper is considered one of the most beautiful Jaspers mined in the US. Its origin is the Eagle region located in the north part of the state of Idaho. Willow Creek is said to be a survival stone, helping to stabilize, harmonize, and balance your physical, emotional and spiritual energy, while it also serves as an excellent shield of protection. 
Willow Creek Jasper contains a variety of colors including chocolate, red, green, beige, orange, and even purple.  According to the cutting of the stone, you can find from one color to all of these colors layered on a single stone.  

*Measures approximately:
Small:  7/8" x 7/8"
Medium:  1-1/8" x 1"
Large:  1-3/8" x 1-1/4"

Crystals may vary in Sizes, Shapes, Colors, and Measurements.