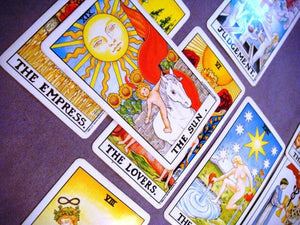 INTRODUCTI0N TO THE TAROT
Saturday, September 30, 2023, from 10:30 am - 12:30 pm
Students will learn about the History of the Tarot.  An overview of the Tarot deck and how to look at the cards along with a handout that has the basic meaning of each of the Major Arcana cards will be presented. The focus for this class will be on learning about the Major Arcana, delving into its mysteries, and working with your intuitive eye to see into the deeper landscape of each card.
_____________________________________________________
TAROT LEVEL I 
Saturday, September 30, 2023, from 1:15-3:15 pm
The focus for this class will be learning about and understanding the Minor Arcana and the Court cards.  Students will learn to conduct a Past, Present, and Future reading with a partner.  The class will include a sharing of their experience and a question and answer period.  A handout with the basic meaning of the Minor Arcana cards will be presented.

Prerequisite:  INTRODUCTION TO THE TAROT or Instructor's Permission
_____________________________________________________ 
INTERMEDIATE TAROT
Saturday, October 21, 2023, from 10:30 am - 12:30 pm
Participants will learn to read intuitively, understanding what a spread is and why the cards can change meaning depending on where they fall in a spread. The following will be explained and discussed:

How to put the book down and read intuitively – (We play a fun game here similar to the telephone game we played as kids.)
How to ask the right questions.  Why it's important to ask questions the right way. Students will work with a 90 question deck for practice and some scenarios that will be pulled from a hat.
What is a spread and why do cards mean different things depending on where they fall in a spread will be discussed.  Students will also receive handouts for the more popular spreads including a Money spread, a basic Horseshow spread, and a Yes/No Spread.
Prerequisite:  TAROT LEVEL I  
_____________________________________________________ 
YOUR TAROT JOURNEY 
Saturday, October 21, 2023, from 1:15-3:15  pm

During this final class, students will learn about the Tarot Cycles and The Fools Journey and how the Tarot relates to real life.  They will learn about the why and how of Tarot Reversals through the presentation of potential Tarot spread scenarios.
Other elements of this class include:
Where does your deck want to take you? 
Deck interview spread 
Code of Ethics in Tarot
A certificate of completion will be awarded to each student who completes the 4-class Tarot Series.  The fee for the two introductory classes is $40 each and the Intermediate and Tarot Journey classes, $45 each.  A series discounted fee of $159 will apply when all 4 classes are purchased in advance of start date.  See opposite side of flyer for enrollment information. 
 
Students should bring a journal or a spiral bound notebook to class and a Rider Waite Tarot deck. A limited number of Tarot Decks will be available at Angel Light at a substantial discount off of Retail pricing.
 
All classes are held at Angel Light Center for the Healing Arts, 13300 Watertown Plank Rd. in Elm Grove, WI and will be taught by Connie Kick of Kickin' it Tarot Style.  To register call 262-787-3001 or enroll on this website. 
Prerequisite:  INTERMEDIATE TAROT
_____________________________________________________
About your Instructor:
As a young girl Connie's Omas would always tell her stories of the old country and her favorite was that both of her Omas were gifted in divination.  On her Mother's side Oma would often read tea leaves and coffee grounds.  Her Oma on her Father's side was the dream interpreter in her hometown back in Austria.  Connie has a strong spiritual connection to both of her Omas and has always felt a pull to this type of work.  She's been reading tarot and oracle cards for herself and friends since the late 80's and has been reading professionally since 2011 and teaching tarot since 2015.  

Connie was featured as a Celebrity Psychic and was also one of twelve Study Group instructors at the 2017 Tarot School Reader's Studio in New York City, NY.  She was a keynote presenter at the 2017 Northwest Tarot Symposium in Portland, Oregon. Connie is also the author and creator of the "Kickin' it with Pugs and Kisses" oracle kit.   

Connie is able to combine your energy, intuition, and the images of the Tarot cards to get a deeper insight into your past, help you to understand what is presently going on in your world and advise you as to what direction your guides are pointing you in.  Connie's readings will provide guidance to your questions and