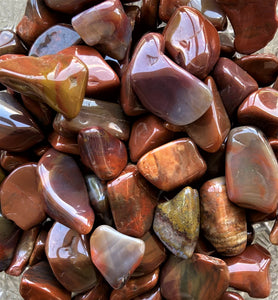 Petrified Wood comes from trees that that have fossilized over time and have turned into stone.  The word petrified comes from the Latin root word "petro" meaning 'rock' or 'stone'.  Petrified wood absorbs agate as it decomposes.
Petrified wood is a wonderful grounding stone. It also helps anyone who feels "stuck" and is having difficulty moving forward.  Petrified Wood helps to remove obstacles in our paths and clears the way for new perspectives and outcomes.  Petrified Wood helps us process though life changes and transitions, opening new pathways of opportunity as our old pathways are closed. 
Petrified Wood is known to aid and align our physical structure including our spines, hips, and feet. It assists us in connecting to the foundation of Mother Earth, conveying her energy of support and strength, and potentially improving our balance when walking. 
Petrified Wood is also said to assist with information when desiring to connect with past lives. 
*Crystal Sizes, Shapes, Colors, and Measurements may vary.

Measures approximately 1" to 1-1/4".