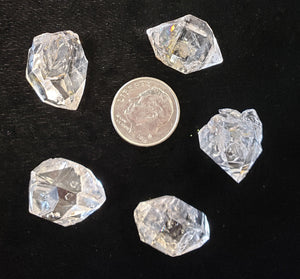 The glitter, sparkle, rainbows, and durability of diamonds make them one of the most sought after gems, but Herkimer Diamonds are a great, more affordable option!
Herkimer Diamonds are high quality, high frequency, double-terminated, clear quartz. As the name states, Herkimer Diamonds are found in Herkimer, New York. Herkimer Diamonds can have dark, carbon inclusions.
Herkimer Diamonds are considered to have the highest energy of the quartz family. Like other clear quartz crystals, they are natural amplifiers of energy, including the energy of other crystals. They are reputed to be excellent at clearing energy blockages and are able to facilitate the use of larger amounts of light energy for healing than other crystals. They are also useful for clearing EMFs and associated stressors. Herkimers are lovely emotional balancers, allowing one to approach difficult situations with greater calm. They are also useful for balancing the chakras.*
*Crystals may vary in Sizes, Shapes, Colors, and Measurements.