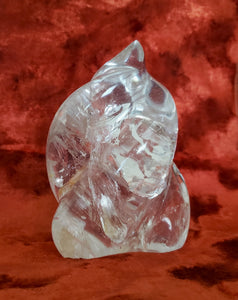 Clear Quartz is a Master healer and works to align and balance all the chakras.  Clear quartz contains the vibrations of the entire rainbow spectrum of color frequencies. It stimulates the immune system and is the most powerful energy amplifier of the entire crystal kingdom.
This Clear Quartz is hand-carved into what is known as a "flame". The cut of a Flame carved crystal represents the rapid movement of strong light energy that is generated from its base and continues to flow up to the tip of the flame at the very top. This energy has a continuous and never-ending flow.
*Measures approximately 4-3/4" x 3-3/8" x 2-1/4".

Crystals vary in Sizes, Shapes, Colors, and Measurements.