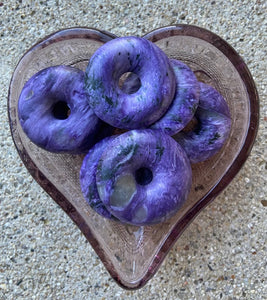 Pi-Stones are circular disks with a hole in the middle.  They are used in the making of jewelry and, on a spiritual level, represent the luminous subtle body and its radiant energy field.
The depicted Pi Stones are created with a stone called Charoite.  Charoite is an unusual mineral, quite rare in occurrence. It is found today only in one location, which is along the Chary River at Aldan in Russia.  It is a stunning ornamental stone which has a similar look to a purple marble.  Charoite is often called a 'stone of transformation' as well as a 'stone of power'.  It assists with integrating the heart to the higher chakras opening the heart to receiving and giving unconditional love.  It enhances intuition, perception, and clairvoyance.  In particular, it transforms negative emotions such as anger and fear into positive feelings. Charoite is known to enhance or bring courage, inner strength or appropriate assertiveness.   It may be helpful for headaches, cramps and  alcohol detoxification. 
PI Stones measure approximately 1-1/4" in diameter.
Crystals vary in Sizes, Shapes, Colors, and Measurements.