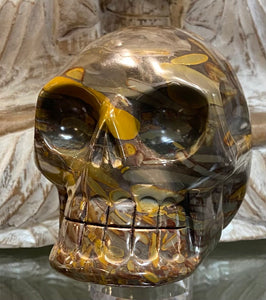 Crystal Skulls can be guardians and helpers for humanity.  They hold energy and information that can be downloaded to help us access higher levels of understanding and consciousness.  They transport us into the realms of higher vibration and provide access to receiving transmissions via thought waves. They are said to support us on our journey forward.
Brecciated Mookaite Jasper is a stone found in the western region of Australia.  Its colors are typically dark, often browns to brownish yellows to blacks and fiery reds.  Brecciated comes from the word 'breccia', which is a geology term used when rocks composed of broken fragments cement together to form a fine-grained matrix.
Brecciated Mookaite Jasper is a stone of connection to the energies of the earth. Because of its connection to earth, it is considered a strength-giver, a supporter through life's many transitions, and a nurturer of vitality for our physical and mental bodies.  It provides balance in all our earthly endeavors and also enhances our willpower to complete tasks and reach our goals. *
This stunning one-of-a-kind skull is a must see!
*Measures approximately 4-3/8" x 2-5/8" x 3"
Crystals may vary in Sizes, Shapes, Colors, and Measurements.