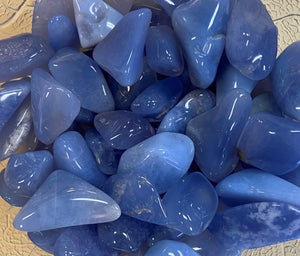 Chalcedony is a stone of calmness and composure.  It comes from Chalcedon, in modern Turkey, where it was first formed. It was quite a popular decorative stone in antiquity, when it was carved with motifs of the air and water deities and water sprites. 
Chalcedony is known to be excellent for speaking in public, whether it is a business meeting or teaching a class.  It has been given the name "Speaker's Stone" for its ability to transfer knowledge and information in a way that is understandable and well-received.  It is also helpful for learning to "measure one's words" when interacting with others.
Chalcedony is also a stone of will-power and strength.  It assists with providing the energy and strength you need to realize your dreams until they have been completely manifested in reality.  Therefore, it has been officially named the "dream manifester" stone.   It also serves as a prosperity stone and is helpful to draw the right people and energy that will support you in reaching your goals.  
*Measures approximately 7/8" to 1-1/8".
Crystals may vary in Sizes, Shapes, Colors, and Measurements.