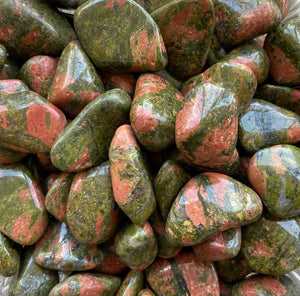 Unakite is a form of granite in mottled shades of green and pinkish to reddish-orange.  It can include pieces of pink orthoclase feldspar, green epidote, and quartz crystals. 
Unakite is considered to be a Stone of Vision, helping to awaken the third eye and lending itself to psychic vision by balancing emotions and spirituality.  Unakite is a good grounding stone when used during meditation and psychic work.  Unakite has also been known to be a scrying stone, when seeking information through the use of crystal balls and other divinatory tools.  
Unakite  may help support healing and recovery from a major illness. 
Crystals vary in Sizes, Shapes, Colors, and Measurements.  Measurement approximately 1-1/4" x 7/8".