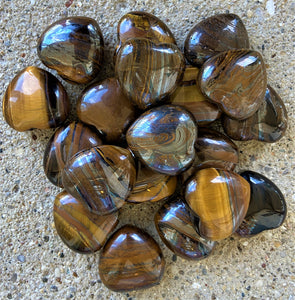 Tiger Iron is a combination of jasper, hematite, and tiger's eye.  It is a natural grounding stone and a stone of great protection.  The hematite in Tiger Iron deflects any negative or unwanted energy coming your way and provides a strong energetic shield around your physical body and aura. 
Tiger Iron, similar to Tiger's Eye, has an ability to serve as a watchful protector.  Working through the third eye, it surveys the environment around you and provides protection. It also promotes strength and vitality and helps when passing through times of change.  It aids those suffering from emotional/mental burnout or family stress.  It stimulates the root and solar plexus chakras.  It is a great grounding stone and is said to aid in strengthening the blood. *
Hearts measure approximately 35x35x15mm.  Crystals may vary in Color, Size, Shape, and Measurements.