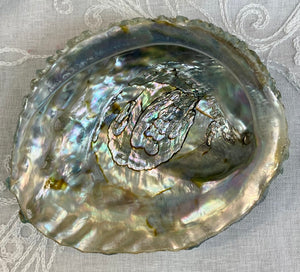 Abalone Shell is a colorful shell that incorporates the beautiful colors of the Sea. It has it's own Metaphysical and Healing properties, even though it is not of the "Crystalline Family." Like other sources of vibrational healing from Nature, Abalone Shells have a strong elemental bond with the Earth and it's healing capabilities. The Abalone represents solace, the greatness of the oceans, a life of beauty, gentleness, caring, comfort, peacefulness, and delight. 
Measures approximately 4-5/8" x 3-3/4".
Sizes, Shapes, and Colors may vary.