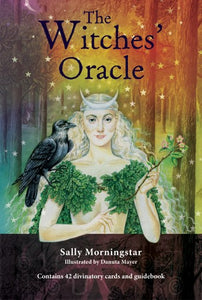 Description as taken from back of product box:
Witches Oracle contains 42 beautifully illustrated cards and a guidebook to help you develop your hidden intuitive talents.  These richly depicted cards help you to connect to a place of deep inner knowledge and tap into the answers you need to create a balanced and successful life, uncovering potential pitfalls on your path forward.  
This set includes information on the fascinating background and history of Wicca and the Wiccan festivals through the year, along with a selection of card spreads to address many of the questions you might have regarding your past, present, and future.   
Author:  Sally Morningstar