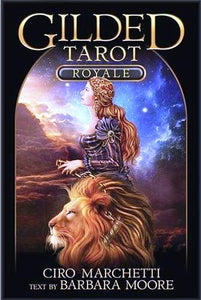 Welcome to an ancient world of magic and wonder!
Myths, fairy tales, and legends have played out their timeless themes for millennia in that magical twilight realm of the imagination, somewhere between fantasy and reality.  The Gilded Tarot  invites you to explore such an enchanted world where ageless symbols and archetypal themes come to life as fair maidens, bold knights, and sage mystics.
Award-winning artist Ciro Marchetti created this visionary tarot using cutting-edge digital art techniques.  Using the popular symbolism and structure of the Rider-Waite Tarot as his muse, he has created this vibrant twenty-first century reimagining of one of the most well-known and widely studied tarot decks.
 *Description from back of box.