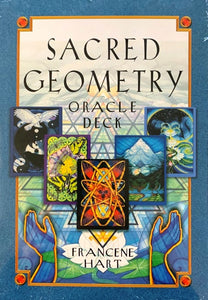 Description as taken from back of product box:
Plato referred to sacred geometry as the language of the soul. For thousands of years, sacred geometry has been a part of every culture. It is the bond that connects us all to the cosmos; it is the true design of our soul. Sacred geometry is the blueprint of creation at the core of all form including the human form. 
The Sacred Geometry Oracle Deck is a  64-card deck with original artwork by nationally recognized visual artist, Francene Hart. The deck allows readers to balance their energy fields and access higher levels of consciousness.