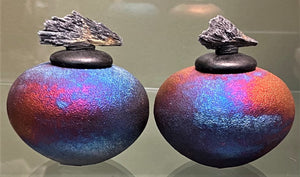 "Go confidently in the direction of your dreams.  Live the life you have imagined." 

~Henry David Thoreau
Take the first step toward achieving your dreams.  Write down your dearest dreams and place them in this earthen vessel.  remember to expect good things.
PROPERTIES
Black Kyanite - Healing
Each hand thrown vessel is fired in an outdoor kiln to 2000 degrees Fahrenheit.  It is pulled red hot from the oven and left to smolder in a pit with wood shavings.  Not everyone survives their trial by fire.  The ones that do, cultivate strength & beauty.
Made by hand with love.
Measures approximately 2-3/4" x 2"