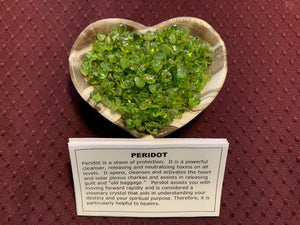 Peridot is a very "gemmy" stone used for protection.  It is a powerful cleanser, releasing and neutralizing toxins on all levels.  It opens, cleanses, and activates the heart and solar plexus chakras and assists in releasing guilt and "old baggage."  Peridot assists you with moving forward rapidly and is considered a visionary crystal that aids in understanding your destiny and your spiritual purpose. 
Peridot is often used to attract money and abundance, especially when placed in the home or a charm bag. It is a great stone to place on your altar as an offering.  It also works well as a deflector stone to keep you from overspending. You can put in your purse or next to your computer when you are shopping online.

Physically, Peridot offers deep healing vibrations to the whole body, and can be especially helpful to those recovering from illness or accidents. Peridot may relieve allergic reactions, ease problems of the lungs, heart, and stomach, and is believed to assist in childbirth.
Crystal Sizes, Shapes, Colors, and Measurements may vary.