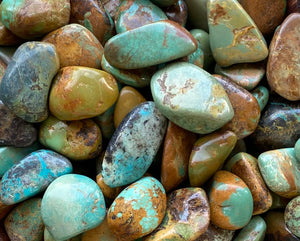 Turquoise historically is often referred to as "Turkish Stone" because it traveled the original trade route in ancient times from Turkey to Europe.  Much of the turquoise sold today comes from Tibet or China, but the  most beautiful turquoise stones come from the mines of Arizona. Turquoise is used by the Native Americans to create some of the most beautiful and vibrationally pure jewelry on the market today.  One of the most important aspects of turquoise is that it vibrates at a very high frequency (master #55) and because of its vibrational aspects, helps to promote overall health and well being. 
Turquoise is also known as the "shaman's stone".  It has been used by the indigenous cultures to call upon and initiate rain.  Turquoise can be used to assist with speaking your truth, healing your wounded heart, and freeing your soul to move forward without fear.  
Crystals vary in sizes, shapes, and colors. 
Measures from approximately 1" - 1-1/4".