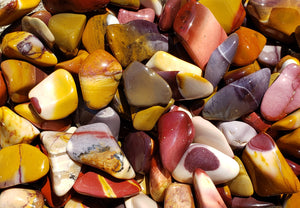 Mookaite Jasper comes from Australia where it is valued as a healing stone that has strength giving characteristics. Its combination of deep reds and yellows are earthy and awe inspiring.  The stone has a strong connection to Mother Earth and, therefore, brings its nurturing and protective qualities to those that work with it.   It also works well as an energy shield against any negative energy heading your way.
Mookaite Jasper's properties are related to the solar plexus chakra, and may help with digestive issues.  It is known to have a positive effect on the immune system and blood pressure.  One thing for sure, Mookaite is a stone that will help boost your energy and sense of power and worth. 
Sizes very but are approximately 3/4" to 1". 

Crystals vary in Sizes, Shapes, Colors, and Measurements.