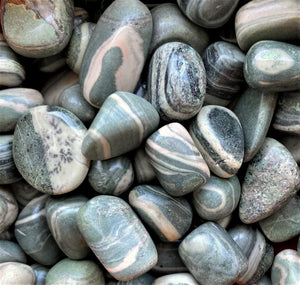 Green Zebra Jasper is considered to be a stone of determination and completion. Its green color has a connection to Mother Earth, and also to the higher levels of consciousness.  It is therefore thought of as a stone of connection, even of great opposites, with an ability to connect the many aspects of our beings into a complete whole. 
Zebra Jasper, formed over 600 million years ago, is a metamorphic rock with a Mohs hardness of 6.5 to 7.0.  It has been found in India, Africa, and Russia.   It is also called by other names including Zebra Rock, Zebra Marble and Zebra Agate. However, it was first discovered in Kununurra, Western Australia where it was used as a protection crystal.
If you want a stone that will give you the momentum and strong kick to move forward, complete your projects, and to manifest your intentions, then Green Zebra Jasper is the stone for you. 
*Measures approximately 3/4" to 1".
Crystals may vary in Sizes, Shapes, Colors, and Measurements.