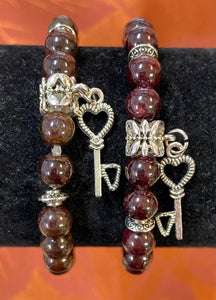 This is an approximately 7" to 7.5" bracelet with Round 8mm Garnet beads a Key Charm.

Garnet is a stone of fire and passion, igniting physical relationships and fanning the flames of love. It is considered a very powerful energizing and rejuvenating stone for the physical heart and for all "matters of the heart".  It is often revered as a healer, strengthener, and transformer for the soul.  Garnet has an amazing ability as a "transformer of energy" as it promotes the release of what no longer serves you and opens space for the powerful transformation of who you are becoming.  
Crystals may vary in Sizes, Shapes, Colors, and Measurements.