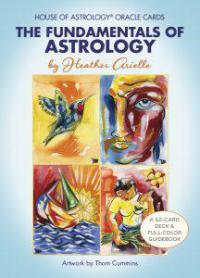 by Heather Arielle
Manifest your heart's desire with these 52 beautifully illustrated Astrology Oracle Cards.  each card captures the nuance and duality inherent in each zodiac sign, planet, and house.  As you become aware of your full astrological potential, areas that are out of balance will be illuminated.
A detailed, in-depth Guidebook accompanies this pioneering deck, giving you the specific tools you need to bring equilibrium back into your life and help you make the most of your astrological energy.
These cards are easy to use, will give you accurate readings, and will teach you the fundamentals of astrology so you can transform your life.
Set includes:  52-card Oracle Deck (104 messages) and a 300-page full-color Guidebook
Cards:  12 Astrological signs, 11 Planets, 12 Houses, 4 Angels, 3 Aspects, 4 Elements, 3 Modalities, 1 Mercury Retrograde, 1 Venus Retrograde, 12 Mars Retrograde