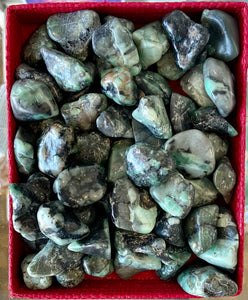 Emeralds are a very soft and are one of the most valuable of all the gemstones. Emerald is one of the earliest known gems to man.  Ancients dedicated the emerald to the Goddess Venus. They believed that the emerald would improve intelligence.
Emerald is considered a "go to" stone for the Heart Chakra, particularly when it comes to the emotions of the heart.  It is said to provide service as a stone for emotional strength, particularly in matters of love or loss. Its metaphysical properties help to provide the strength to carry on in the face of adversity and provide hopeful vision for the future.  

Emerald is known to be beneficial for the health and healing of the eyes.  On a historical side note, Emperor Nero would watch gladiator shows through fine emerald glasses.  Emerald is the birthstone for May and also considered to reveal faithfulness between lovers, changing its colors when one's mate has broken the bonds of commitment. 

*Measurements forthcoming.
Crystal Sizes, Shapes, Colors, and Measurements may vary.