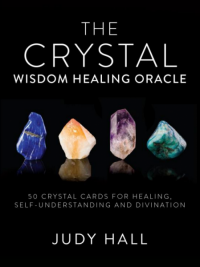 By Judy Hall
Crystals have been used for divination and healing since ancient times.  Their powerful intrinsic energies can serve as mirrors to reveal your true path and link you the part of yourself that is all-seeing and all-knowing.  This beautiful Oracle is designed to help guide you on your life path, to connect you to your higher, intuitive self and to give you incredible, profound and often surprising insights into your past, present, and future.

50 Crystal Cards for Healing, Self-Understanding, and Divination.
A full-color handbook featuring 50 detailed crystal profiles and practical advice on how to choose layouts, focus you questions, and use the cards for deeper personal healing and transformation.