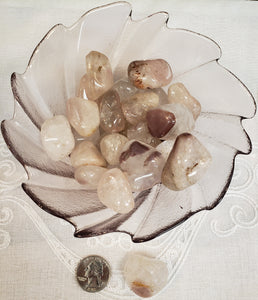 Lithium Quartz is one of the most wonderful stones to use for relaxation and "letting go". It is a productive aid in the healing room to assist a client into deep states of relaxation. Lithium Quartz is very natural.  It is the same mineral used in antidepressant medication, but as a Crystal of Mother Earth, it exists in its purest form. 
Lithium Quartz is a natural antidepressant and emotional balancer. When combined with Clear Quartz, the natural antidepressant properties of Lithium are amplified.  It can assist with reaching into the past to help dissolve the roots of emotional dis-ease.  Lithium Quartz is an excellent cleanser for the chakras and will purify water.  It is extremely useful as a healer for plants and animals.*

*Crystals may vary in Sizes, Shapes, Colors, and Measurements.