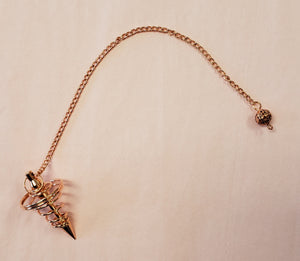 There is something very mystical about copper that enables its user to feel energy at an elevated level. Copper is noted to amplify your thoughts and aid in channeling and in communicating with higher dimensional beings.
Do you need a spark of initiative or would you like to develop more independence?  Copper is reputed to help with these traits.  Copper, when worn as an amulet, is a bringer of luck, and is said to help with recovering property. Native Copper is a natural amplifier of energy and can be used to fashion healing tools.
*Measures approximately 1-5/8" x 1" with total length of 9-3/8".