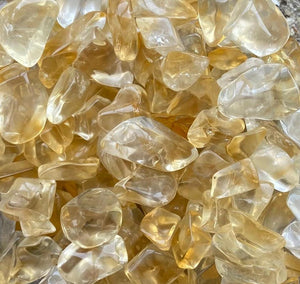 Citrine is a member of the quartz family. It can be formed naturally in the earth or by heating amethyst to arrive at its beautiful golden color. Citrine has been called the "Light Maker" because it carries the energy of the sun, reflecting the sun's vibrant energy within its crystals. Citrine is one of the few members of the mineral kingdom that cannot hold and collect negative energy, but dissipates and transmutes it. Therefore, it never needs clearing or cleansing.
Citrine is a stone of power and self-worth. It works like magic when attending a business meeting creating confidence and positive outcomes. It also serves as a stone of prosperity because its frequency resonates with material abundance. Citrine is also an instant Chakra balancer.
*Crystals may vary in Sizes, Shapes, Colors, and Measurements. 
Measures approximately 5/8".