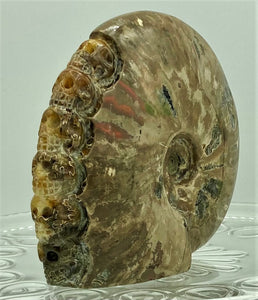 WOW!  What a find! This one-of-a-kind Iridescent ammonite, aka Opalized Ammonite, is hand-carved with 6 skulls. 
Ammonite is a fossilized animal that was once a prehistoric snail. It looks very similar to pyrite in that it has many different gold, purple, brown, and green hues. Ammonite is constructed in sections, so it is said to be very good luck to own, particularly for those in the art or architectural fields.  Ammonite is a pre-historic fossil and carries the energy of ancient times and forgotten information.  It is also purported to be a very protective stone and has served as a talisman throughout time.  Ammonite is said to add stability and structure to one's life. It encourages the metamorphosis from survival instinct into the realms of success. *
The ammonite stands up for display.

*Measures approximately 5-5/8" x 4-5/8" x 1-1/2".