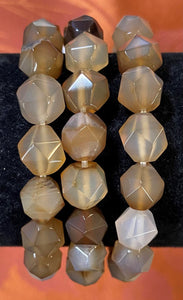 Brown agate, also known as "Botswana Agate," is thought of as a "royal" stone. It is quite "rare" and is mined for its outstanding beauty.  It has amazing layers of pattern and color and can appear in shades of white, black, brown, gray and sometimes with salmon or pink striations. Most of the brown agate stones mined today come from Botswana for which it is named.  
Agates, in general, are stones of balance.  That is their job in the world of crystals, but they also bring love, truthfulness, courage, bravery, strength and abundance.  Agates are considered Power Stones.  They are very grounding, solid and stable.  All agates are excellent healing stones as well.  Agate stimulates analytical ability and assists when working with math and numbers.

*This is an approximately 7" to 7.5" bracelet with Faceted 10-13mm Brown Agate beads.