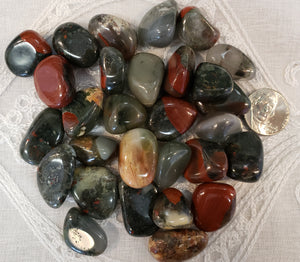 It is said that Bloodstone was found in the breastplates of the high priests in ancient times.  Bloodstone is very colorful, usually dark green to yellow/gold in color and often has red spots.  Lore has it that the red spots found in the stone represent the blood of Christ and perhaps this was the stone placed under Him during His crucifixion.
Bloodstone promotes grounding at the level of the heart and helps us stay strong and courageous in the face of challenges. It helps us to stay the course when things get tough and not to give up. Bloodstone also provides strength and courage when one is being bullied.
Bloodstone is also considered to be a stone that may absorb lower forms of energy in the body as it works to heal the heart, cleanse the bladder and liver, and help to heal infections.  Often the color will fade from the stone after it has done its healing work.
*Crystals vary in Sizes, Shapes, Colors, and Measurements.