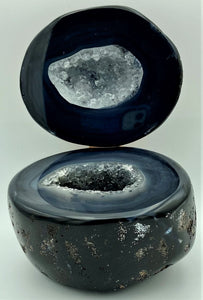 This item consists of two pieces.
Amazingly Beautiful! Each unique pot is an amazing work of Mother Nature.  Comprised of Agate, each pot has an inner and outer beauty, displaying amazing colors with Druze crystals on their interiors.
Agates, in general, are stones of balance and considered power stones.  They are very grounding, solid, and stable. They balance the energies of our physical bodies, emotions, and spirit.  They promote strength, bravery, and courage.  They also promote abundance in our lives.  They are perfect stones to be used in healing.  Smaller agates placed in the hands or under the feet during a healing session, will provide the balance the body, mind, and spirit are needing at the present moment.  
This item is store pick-up only due to the weight of the item and the subsequent shipping costs.

* Measures approximately 3-3/4" x 3-1/8" x 3-5/8".
Crystals vary in Sizes, Shapes, Colors, and Measurements.